Committed to manufacturing world-class
High-end intelligent CNC equipment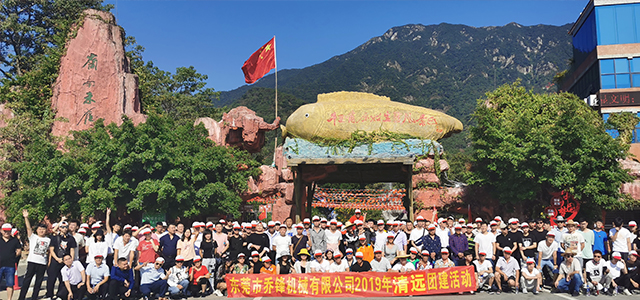 Qiao Feng invites you to Beijing China International Machine Tool Exhibition
Time of issue:

2019-04-06 20:08

Views:
Qiao Feng invites you to Beijing China International Machine Tool Exhibition
Time of issue:

2019-04-06 20:08

Views:
The China International Machine Tool Show (CIMT) was founded in 1989 by the China Machine Tool Industry Association. It is held every single year. It is the most prestigious international machine tool exhibition in China. It is in collaboration with EMO (European International Machine Tool Show) IMTS ( Chicago International Machine Tool Show) and JIMTOF (Japan International Machine Tool Show) are one of the world's four major international machine tool exhibitions. After 30 years, the international status and influence of CIMT exhibition have been continuously improved. It has become an important place for international advanced manufacturing technology exchange and trade, a platform for displaying the latest achievements in modern equipment manufacturing technology, and a vane for the progress of my country's machinery manufacturing technology and the development of machine tool industry. And barometer. The CIMT exhibition brings together the world's most advanced and applicable machine tool products. For domestic buyers and users, it is an international inspection without going abroad.
A total of 125,500 professional visitors from 82 countries and regions in the world came to visit the last exhibition, of which domestic visitors accounted for 97.26%, overseas visitors accounted for 2.74%, and the total number of visitors reached 320,484.
The 16th China International Machine Tool Exhibition (CIMT2019) will be held at the China International Exhibition Center (New Hall) in Beijing from April 15-20, 2019. The exhibition is hosted by the China Machine Tool Industry Association and will be organized with China International Exhibition Co-organized by the Center Group Company. The total area of this exhibition is 142,000 square meters, and more than 1,700 exhibitors from 28 countries and regions will participate. The theme of this year's exhibition is "Integration, Win-Win, Intelligent Creation of the Future".
CIMT2019 used all 8 indoor exhibition halls of China International Exhibition Center (new hall), and built 6 large temporary exhibition halls on the east and west sides of the exhibition hall. The total exhibition area reached 142,000 square meters, an increase of 8.40 over the previous exhibition. %. The exhibition as a whole will continue to be arranged according to the combination of national pavilions and exhibit classifications, with domestic and foreign exhibition areas intersecting, each accounting for about 50%. In some technical fields, domestic and foreign exhibitors have mixed exhibitions and competed on the same stage. This exhibition set up a forming and laser processing machine tool exhibition area (W2 and W6 halls), an industrial robot and automation exhibition area (part of the concentrated area of E1 hall), and a tool/tooling/tool grinding exhibition area (in halls E3/E4/E7/E8). Partially concentrated area).
The booth of Qiaofeng Machinery in this exhibition is located at W4-B411
Exhibits Introduction
Qiao Feng HSD-1615 high-speed gantry machining center
Features
The latest style of structural design has the best machine rigidity.
One-piece base and door bridge, super rigid main structure.
Optional direct-drive high-speed spindle for precision mold processing.
It is equipped with 20000rpm high-speed electric spindle for high-end precision mold processing.
Highly commercialized mature models with stable quality.
Suitable for aviation, heavy machinery, shipbuilding, power generation, printing, automobiles, molds and other manufacturing industries.
Qiao Feng VH-85 high-speed and high-precision comprehensive machining center
Features
Super processing size
High comprehensive processing performance
High rigid body structure
Ultra-high processing capacity of tiny line segments
Qiao Feng SZ-450ES
Features
The main body structure is made of high-grade Meehanite cast iron manufacturing process, and the internal stress is eliminated through secondary annealing treatment to ensure long-term accuracy.
The spindle adopts FANUC's large torque wide-area motor, which has excellent cutting ability.
The three-dimensional assembly line accords with ergonomic operability, and the influence of thermal vibration is small.
It is easy to process large, thin, heavy, and irregularly shaped processed objects, and the upper and lower parts are easy.
Dongguan Qiaofeng Machinery Co., Ltd. was established in 2009. It is a high-tech enterprise focusing on the R&D and manufacturing of high-end CNC machine tools. In 2018, it was selected as a pilot enterprise for the "Dongguan City Multiplying Plan". At present, 7 precision CNC machine tool production and research bases have been established in Guangdong and Jiangsu, covering an area of ​​130,000 square meters, and the annual maximum CNC machine tool production capacity is more than 5,000 units. The products cover 11 series of vertical machining centers, horizontal machining centers, vertical lathes, horizontal lathes, and gantry machining centers.
Qiaofeng Machinery has several core competitiveness:
• The largest manufacturer of CNC machine tools in the entire industry chain in South China
• Strong scientific research strength, obtained more than 70 patents
• Strict product management and excellent quality
• Perfect service system, convenient marketing network:
• Excellent industry solutions and influence
Qiao Feng Machinery has the ideal of becoming the mainstay of China's manufacturing industry. "Sincere and diligent, fine craftsmanship and innovation", carrying the national brand flag and being the industry leader, will fully support the all-round industrial upgrade of my country's manufacturing industry.
Thank you for your interest in Qiaofeng Machinery. If you like this article, please click the button in the upper right corner to share it to the circle of friends. If you want to know more, please scan the QR code below to follow us.
Qiao Feng will meet you at the Beijing Exhibition, W4-B411, see or leave.
All rights reserved © JIR FINE INTELLIGENT EQUIPMENT CO., LTD
粤ICP备06079730号