Committed to manufacturing world-class
High-end intelligent CNC equipment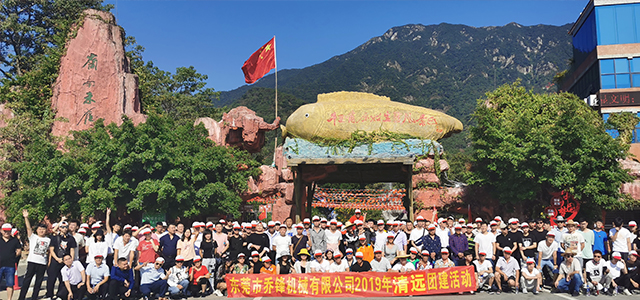 International Machine Tool Show, Qiao Feng is in Beijing!
Time of issue:

2019-04-17 23:08

Views:
International Machine Tool Show, Qiao Feng is in Beijing!
Time of issue:

2019-04-17 23:08

Views:
welcome to jirfine
Today is the third day of the 16th China International Machine Tool Show (CIMT2019) at the China International Exhibition Center in Beijing.
Qiao Feng's elite team appeared at the exhibition
Qiao Feng's booth is located atW4-B411
As the most prestigious international machine tool exhibition in China, CIMT2019 is the best window and platform to connect to the Chinese machine tool consumer market, once again attracting global attention. There are industry organizations and organizations in 28 countries and regions including Germany, the United States, Switzerland and Japan. CCPIT organizes national and regional pavilions to participate. The level of exhibits and the coverage of varieties and specifications of the exhibition are at an innovative level。
Guests from all walks of life visited Qiao Feng's booth
Director Shi was interviewed by Machine Tool Magazine at the exhibition site
Qiaofeng high-speed gantry machining center once again became the focus of much attention, attracting a large number of merchants to visit, consult and negotiate.
The negotiation area is full
Group photo of Mr. Jiang Xiuhua, Chairman of Qiaofeng Group and the leaders of THK in Japan
Respond to this exhibition"Integration and win-win, intelligent creation of the future"Qiao Feng Machinery has brought three models on the theme of, everyone will understand.
Qiao Feng HSD-1615 high-speed gantry machining center
The latest style of structural design has the best machine rigidity.
One-piece base and door bridge, super rigid main structure.
It is equipped with 20000rpm high-speed electric spindle for high-end precision mold processing.
Highly commercialized mature models with stable quality.
Qiao Feng VH-85 high-speed and high-precision comprehensive machining center
Super processing size
High comprehensive processing performance
High rigid body structure
Ultra-high processing capacity of tiny line segments
Qiao Feng SZ-450ES
The main body structure is made of high-grade Meehanite cast iron manufacturing process, and the internal stress is eliminated through secondary annealing treatment to ensure long-term accuracy.
The spindle adopts FANUC's large torque wide-area motor, which has excellent cutting ability.
The three-dimensional assembly line conforms to ergonomic operability, and the influence of thermal vibration is small.
It is easy to process large, thin, heavy, and irregularly shaped processed objects, and the upper and lower parts are easy.
Qiaofeng Machinery is looking forward to seeing you in W4-B411!
About Qiaofeng Machinery
Dongguan Qiaofeng Machinery Co., Ltd. was established in 2009 and is a production enterprise specializing in the R&D and manufacturing of high-end CNC machine tools. The company mainly produces high-end, general-purpose, and cost-effective machining centers, including: vertical machining center series, horizontal machining center series, gantry machining center series, drilling and tapping machining center series, precision carving machines, CNC vertical lathes, etc. Dozens of products in six series. In various electronic products (including IT products, communication products, consumer electronics), auto parts, various mold processing, medical equipment, aviation, aerospace, military, shipbuilding, petroleum machinery, instrumentation, new energy, automation equipment, general machinery, etc. Various industries have a wide range of applications.
National Service Hotline: 400-000-6399
Company website: http://www.jirfine.com
Dongguan headquarters
Address: Changdong Road, Chenwubei Management Zone, Changping Town, Dongguan City
TEL:0769-82328091 82328092 80328093
FAX:0769-82328090
Nanjing Branch
Address: Roma One Road, South District, Lishui Economic Development Zone, Nanjing
TEL: 025-56230588
FAX:025-56230188
All rights reserved © JIR FINE INTELLIGENT EQUIPMENT CO., LTD
粤ICP备06079730号