Committed to manufacturing world-class
High-end intelligent CNC equipment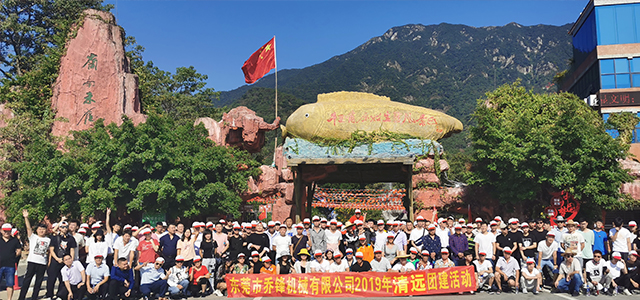 On March 23rd, Qiao Feng Machinery will meet you in Taizhou, and work together to promote Made in China 2025!
Time of issue:

2019-03-15 20:21

Views:
On March 23rd, Qiao Feng Machinery will meet you in Taizhou, and work together to promote Made in China 2025!
Time of issue:

2019-03-15 20:21

Views:
Qiao Feng's booth is located atHall OneMetal cutting processing exhibition area
special11-1
This time, Qiao Feng's booth is at the C position.
Quite"Wulin leader"Style.
About this exhibition
Taizhou-a strong industrial city, a vibrant city
Taizhou-one of the most dynamic cities in China's "Yangtze River Delta", an important manufacturing base in China and an innovation demonstration zone for the private economy, automobiles, motorcycles and auto parts, shipbuilding, water pump valves, medical machinery, mold plastics , Household appliances, clothing machinery, labor and cutting tools, machine tool manufacturing, hardware and electrical machinery and other industries are complete, with obvious advantages in clusters.
With the strong support of the China Chamber of Commerce for Import and Export of Machinery and Electronics and the Taizhou Municipal People's Government, the "TMF Taizhou Machine Tool, Tool and Die Exhibition" has been successfully held for 14 years. The exhibition adheres to the theme of "Industry, Trade, Technology, and Service" and closely follows The construction of Taizhou "advanced manufacturing base" provides a professional and fast market platform for the majority of enterprises to introduce advanced equipment and accelerate technological transformation, and has been well received by all sectors of society. Over the past 14 years, we have been committed to the continuous development of exhibition indicators such as the scale, grade, industry influence, trade turnover, quality and quantity of professional visitors, and achieved good results, making the exhibition a bridge and link for companies to explore the Southeastern Zhejiang market. It is a professional event with industry representativeness and brand effect in Southeast Zhejiang.
As a professional, branded, and profitable exhibition and trade platform for product procurement, brand promotion, technical exchanges, and information sharing, this machine tool exhibition has a broader and deeper level of satisfaction for the introduction of advanced technology and high-end The need for equipment has realized the organic integration of the exhibition with the local industry base and market demand, and buyers in Taizhou and surrounding areas have become well-known. Over the years, professional visitors have mainly come from Hangzhou, Ningbo, Wenzhou, Ruian, Yueqing, Yongjia, Yuyao, Taizhou (Jiaojiang, Huangyan, Luqiao, Wenling, Yuhuan, Linhai, Sanmen) and other parts of the country. Fixed professional audience groups in surrounding provinces and cities.
There are more than 500 exhibitors in this exhibition and more than 1,200 exhibited products. Qiaofeng Machinery has won the majority of consumers with its excellent quality and perfect after-sales service, and has also been highly recommended by the official website of the exhibition.
This time, Qiao Feng brought a hardcore player with both appearance and strength.
——Qiao Feng HSD-1615 high-speed gantry machining center
Features
The latest style of structural design has the best machine rigidity.
One-piece base and door bridge, super rigid main structure.
Optional direct-drive high-speed spindle for precision mold processing.
It is equipped with 20000rpm high-speed electric spindle for high-end precision mold processing.
Highly commercialized mature models with stable quality.
Another one is the golden partner of hardcore players
——Qiao Feng VH-85 high-speed, high-precision and high-gloss comprehensive high-performance machining center
Features
Adhering to the consistent craftsmanship and advanced R&D technical team, Qiao Feng specially designed the VH series models for high-precision parts and molds. It can achieve high-efficiency and high-precision processing capabilities. It is the most cost-effective series of all models, unparalleled. Especially for the fanuc oi MF (3) system launched for the high-precision mold industry, the direct-drive spindle is 15000rpm. The standard spindle oil temperature control system can effectively control the thermal temperature rise of the spindle and reduce thermal deformation. The joint surface of the spindle box and the spindle is hand-shoveled to achieve the best assembly accuracy and ensure the ultimate performance and stability. The precision and smoothness of the processed molds, especially the curved surface, have been praised by customers.
If you want to know more, please visit the Taizhou Machine Tool Show in person.
We are waiting for you in Hall 1, booth 11-1. See you or leave!
All rights reserved © JIR FINE INTELLIGENT EQUIPMENT CO., LTD
粤ICP备06079730号