Committed to manufacturing world-class
High-end intelligent CNC equipment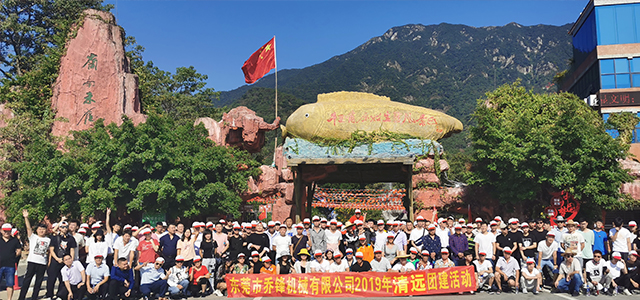 Central China International Equipment Manufacturing Expo Qiao Feng Machinery meets you in Hefei
Time of issue:

2020-10-15 00:45

Views:
Central China International Equipment Manufacturing Expo Qiao Feng Machinery meets you in Hefei
Time of issue:

2020-10-15 00:45

Views:
The 2019 Central China (Hefei) International Equipment Manufacturing Expo will open today at Binhu International Convention and Exhibition Center in Hefei, Anhui Province. The Expo will last for three days (May 9-May 11). It will be a Sino-British joint venture Goodbotasus Exhibition Company and relevant industry departments in the central region jointly organized.
Exhibition address: No. 3899, Jinxiu Avenue, Binhu New District, Hefei
Since 2001, it has been held once a year and has been successfully held for 17 consecutive sessions. It has attracted nearly 9,000 exhibitors from 23 provinces and cities in China, Hong Kong, Taiwan and other regions, and more than 400,000 professional visitors have come to the exhibition to visit and exchange. It has developed into one of the largest and most influential industrial fairs in Central China. It is the longest, largest and most influential equipment manufacturing exhibition in Anhui.
At this exhibition, Qiaofeng Machinery and Anhui agent Anhui Gaoshan Intelligent Equipment Co., Ltd. jointly participated in the exhibition. The booth is located at 6-T18 and brought three hot-selling products
Features
The latest style of structural design has the best machine rigidity.
One-piece base and door bridge, super rigid main structure.
Optional direct-drive high-speed spindle for precision mold processing.
It is equipped with 20000rpm high-speed electric spindle for high-end precision mold processing.
Highly commercialized mature models with stable quality.
Qiao Feng SZ-550E
The main body structure of Qiaofeng SZ-550E vertical CNC lathe adopts high-grade Meehanite cast iron manufacturing process, and undergoes secondary annealing treatment to eliminate internal stress and ensure long-term accuracy. The spindle adopts FANUC's large torque wide-area motor, which has excellent cutting ability. The three-dimensional assembly line conforms to ergonomic operability, and has little effect of thermal vibration. It is easy to process large, thin, heavy, and irregularly shaped objects, and it is easy to install and remove parts.
Qiao Feng V-11 High Speed and High Precision Machining Center
The full body of Qiaofeng V-11 uses high-quality Meehanite castings to ensure permanent rigidity. The ultra-wide base and balanced 10 horizontal supports, the base is stable and shock-absorbing can ensure excellent dynamic accuracy during rapid displacement. The X-axis adopts a single-track three-slider linear track, which can better meet the high-precision applications of heavy-duty processing. High speed, high efficiency, no counterweight, it is the best choice for mass production processing.
If you want to know more, please visit the Hefei Machine Tool Show in person.
We are waiting for you at Booth 6-T18, see or leave!
About Qiaofeng Machinery
Dongguan Qiaofeng Machinery Co., Ltd. was established in 2009 and is a production enterprise specializing in the R&D and manufacturing of high-end CNC machine tools. The company mainly produces high-end, general-purpose, and cost-effective machining centers, including: vertical machining center series, horizontal machining center series, gantry machining center series, drilling and tapping machining center series, precision carving machines, CNC vertical lathes, etc. Dozens of products in six series. In various electronic products (including IT products, communication products, consumer electronics), auto parts, various mold processing, medical equipment, aviation, aerospace, military, shipbuilding, petroleum machinery, instrumentation, new energy, automation equipment, general machinery, etc. Various industries have a wide range of applications.
National Service Hotline: 400-000-6399
Company website: http://www.jirfine.com
Dongguan headquarters
Address: Changdong Road, Chenwubei Management Zone, Changping Town, Dongguan City
TEL:0769-82328091 82328092 80328093
FAX:0769-82328090
Nanjing Branch
Address: Roma One Road, South District, Lishui Economic Development Zone, Nanjing
TEL: 025-56230588
FAX:025-56230188
Qiaofeng Machinery Anhui Authorized Agent
Anhui Gaoshan Intelligent Equipment Co., Ltd.
Address: Intersection of Jiulong Road and Tangkou Road, Taohua Industrial Park, Hefei City, Anhui Province
Contact: Cai Jie
Contact number: 13866164848
All rights reserved © JIR FINE INTELLIGENT EQUIPMENT CO., LTD
粤ICP备06079730号