Committed to manufacturing world-class
High-end intelligent CNC equipment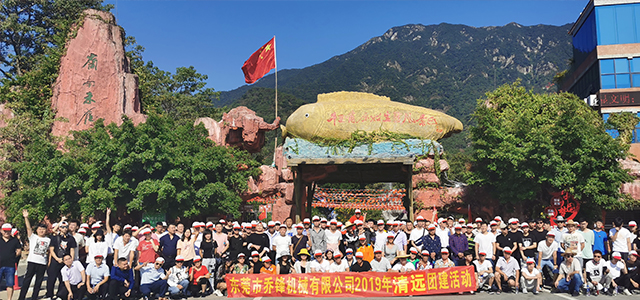 Qiao Feng will participate in the 17th Hefei International Machine Tool and Tooling Exhibition in 2017
Time of issue:

2017-04-28 12:30

Views:
Qiao Feng will participate in the 17th Hefei International Machine Tool and Tooling Exhibition in 2017
Time of issue:

2017-04-28 12:30

Views:
Qiao Feng Machinery Booth: T-15 Office leader: Wen Zhigang 15312078718
2017 The 17th Hefei International Machine Tool and Tooling Exhibition
Approved by the Ministry of Commerce of the People's Republic of China
Host   China Machinery Industry Federation Anhui Machinery Industry Federation
Anhui Machinery Industry Association Sino-British Joint Venture GoodBotasus Exhibition Company
Host   Anhui Province Machine Tool Association Anhui Haobotasus Exhibition Company
Time May 17-20, 2017
Location Hefei Binhu International Convention and Exhibition Center
About "CCEMEM Central Japan Manufacturing Expo"
The Central China International Equipment Manufacturing Expo (CCEME/"Central China Manufacturing Expo") is jointly organized by the China Machinery Industry Federation and the Sino-British joint venture Bottassus Exhibition Company.
The Central China (Hefei) International Equipment Manufacturing Expo and the "Anhui Industry Exhibition" have been held once a year since 2001 and have been successfully held for 16 consecutive sessions, attracting a total of 23 domestic provinces and cities, Hong Kong, Taiwan and other regions. 9,000 exhibitors participated in the exhibition, and more than 400,000 professional visitors came to visit and exchange. It has developed into one of the large-scale and influential industrial fairs in Central China. It is a long-lasting, large-scale and influential equipment manufacturing exhibition in Anhui.
For many years, we have been committed to serving the industrial manufacturing industry in Anhui. It is an ideal trading platform for industry exchanges, brand promotion, business expansion and product sales in the industrial manufacturing field.
The Central China (Hefei) International Equipment Manufacturing Expo "Anhui Industry Exhibition" has a high-quality database of professional visitors, through professional online media, the official website of the exhibition, e-mail marketing, press releases, mailings, Call Center telephone appointments, SMS, new Media platforms (WeChat, Weibo), industrial clusters and other forms of promotion, focusing on inviting professional buyers with decision-making ability to purchase or visit the exhibition.
Focus on invitation to visit and purchase objects (the space is limited, the list is partial)
Jianghuai Automobile Group, Chery Automobile, Hefei Changan Automobile, Maanshan Iron and Steel Group, Giti Tire, Hitachi Construction Machinery, Yingliu Group, 16 Electronics, 38 Electronics, 43 Electronics, AVIC, Tianwei Baobian, Hefei ABB , Anhui Forklift Group, Anhui Military Industry Group, Dongfeng Electric, Excalibur Technology, Hefei Changhong, Hefei Midea, Hefei Gree, Hefei Meiling, Whirlpool, Hefei Haier, Anhui Siemens, Anhui Quanchai, Zhongding Group, Anhui Zungui Electric, Anhui Anhui Victoria, Continental Continental Tire, Hefei Guoxuan Hi-Tech, Hefei Lianbao Electronics, Anhui Guozhen Environmental Protection, Anqing Huanxin Group, Tongwei Solar, Anhui Conch Group, Anhui Honglu Steel Structure, Wuhu Xinxing Casting Pipe, Tongling Nonferrous Group, Sungrow, JAC Gear, Hefei BOE, Hefei Changyuan Hydraulic, Hefei Shenma Technology, Hefei Century Jingxin, etc...
Exhibition scope
◆Metal cutting machine tools: metal processing centers, milling machines, ordinary lathes and automated lathes, boring machines, sawing machines, slotting machines, broaching and planing machines, gear processing machine tools, modular machine tools and components, machining centers and parallel machine tools, drilling and tapping Machine tools, tool processing grinders, honing, grinding, polishing and super finishing machine tools;
◆Manufacturing cell/system and automation equipment/industrial robot
◆Metal forming machine tools: metal sheet cutting machine tools and processing centers, sheet metal, sheet metal, profile shearing machine, sheet metal, sheet metal, tube spinning machine, sheet metal bending machine bar, tube bending machine, straightening machine, Wire forming machines, punches, presses, nibbling contouring machines, various presses;
◆Special processing machine tools: EDM processing equipment, wire EDM equipment, electrochemical processing equipment, flame cutting equipment, plasma cutting equipment, water jet cutting equipment, rapid prototyping equipment, marking and engraving machines, surface treatment And coating equipment, vacuum forming machine;
◆Control system, digital display device and machine tool electrical appliances;
◆Tools, fixtures, measuring tools and related products; molds and materials; bearing, gear processing technology and equipment;
◆Machine tool thermal processing technology and equipment: forging, casting, heat treatment technology and equipment;
◆Machine tool accessories, functional parts and auxiliary devices;
◆ Abrasives, super-hard materials;
All rights reserved © JIR FINE INTELLIGENT EQUIPMENT CO., LTD
粤ICP备06079730号