Committed to manufacturing world-class
High-end intelligent CNC equipment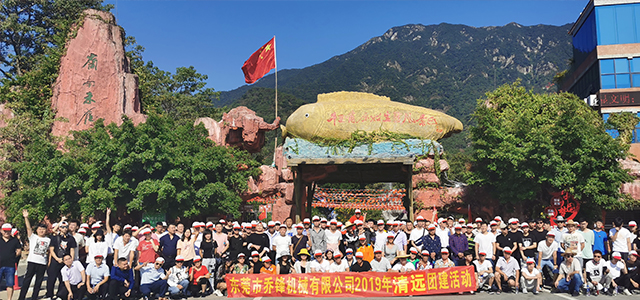 Jinan International Machine Tool Show is coming soon, Qiao Feng brings hot-selling models to the stage
Time of issue:

2019-03-11 20:29

Views:
Jinan International Machine Tool Show is coming soon, Qiao Feng brings hot-selling models to the stage
Time of issue:

2019-03-11 20:29

Views:

Qiao Feng Machinery Booth No.:1D-122
From March 18th to 20th, 2019, the 22nd Jinan International CNC Machine Tool Exhibition will be held at Jinan International Convention and Exhibition Center. Seven exhibition halls will be opened at that time, and 2000 international standard booths will be preset. The exhibition will bring together more than 500 companies from the United States, Germany, Japan, South Korea and various domestic provinces and cities to participate. This exhibition focuses on displaying CNC machine tools, processing centers, laser cutting equipment, welding equipment, industrial robots, special processing equipment, power transmission, inspection and measuring equipment, and various mechanical functional components. There will be 60,000 professional visitors. Visiting and purchasing is a high-quality platform for product display and market expansion.
As a national high-tech enterprise and a domestic high-end intelligent equipment overall solution service provider, Qiaofeng Machinery will present several high-precision machining centers
Dongguan Qiaofeng Machinery Co., Ltd. was established in 2009 Located in Chenwubei Management Zone, Changping Town, Dongguan City, with a registered capital of 80 million yuan, it specializes in R&D, production, sales and related services of CNC machine tools.It is the largest manufacturer of CNC machine tool industry chain in South China, Covers an area of about 15,000 square meters, has an annual production capacity of more than 3,000 CNC machine tools, and has the largest professional production base and service platform in Guangdong.201Recognized as a national high-tech enterprise for 5 years。Selected in 2018"Dongguan City Double Plan"Pilot enterprise。


The company mainly produces various high-end, general-purpose, cost-effective machining centers, including: vertical machining center series, horizontal machining center series, gantry machining center series, drilling and tapping machining center series, engraving machines, CNC vertical lathes, etc. Dozens of products in six series. At this exhibition, Qiao Feng will exhibit three hot-selling models.

Qiao Feng VH-85
喬鋒VH-The 85 high-speed and high-precision integrated machining center has ultra-high rigidity, and its large-span bed structure ensures processing stability, and is as solid as a rock and stable as a mountain. The steady increase in sales proves that it is the industry's best three-axis rail machining center with the strongest rigidity and the best comprehensive processing performance.
Qiao Feng JVH-630
The Qiaofeng JVH-630 horizontal machining center not only has a super-rigid body structure, but also has a stable and reliable motion design and screw pre-tensioning, which can provide the best feed rigidity and accuracy. The maximum torque of the belt spindle at 540 rpm can reach 250NM full power output。
Qiao Feng SZ-550E
Qiao Feng SZ-550EThe main body structure of the 550E vertical CNC lathe adopts high-grade Meehanite cast iron manufacturing technology, and undergoes secondary annealing treatment to eliminate internal stress and ensure long-term accuracy. The spindle adopts FANUC's large torque wide-area motor, which has excellent cutting ability. The three-dimensional assembly line conforms to ergonomic operability, and has little effect of thermal vibration. It is easy to process large, thin, heavy, and irregularly shaped objects, and it is easy to install and remove parts.
About the exhibition
Exhibition Hall Address: No. 28, Industrial South Road, Jinan City
Overall location map
Qiao Feng's booth:1D-122
Jinan International Machine Tool Exhibition, we have already set off, welcome to visit Qiaofeng Machinery's booth for guidance, great benefits for purchasing machines, courteous consultation... Various surprises are waiting for you. March 18-20, see you or leave!
All rights reserved © JIR FINE INTELLIGENT EQUIPMENT CO., LTD
粤ICP备06079730号